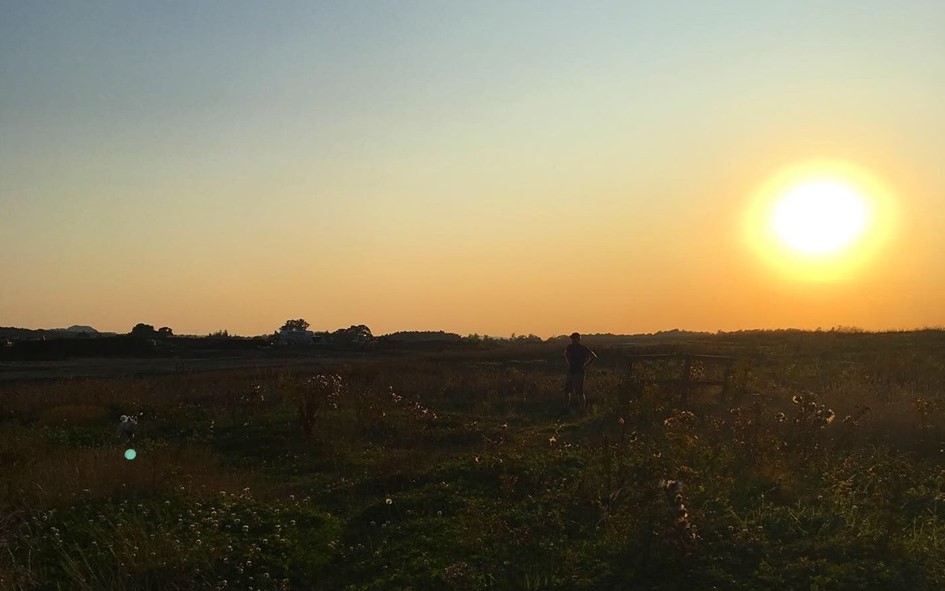 30 Oct

Football boots for Christmas (Revised Version) – Part Six

THE AYTON BUS

The auld utility bus, with its wooden park bench seats still camouflaged from Hitler's wartime, was near empty, but then again, thought Baw, it was only during the week; most folk were still attending their work in shale mines, and in fields ploughing and planting, or harvesting, more like, this time of year. And then there was them out checking drains, staring into holes in the pavement, leaning on shovels and smoking wee thin dirty doups between their thumbs and a finger, coughing and choking over dirty jokes and football, cadging cups of tea from auld wives with hardly enough for themselves, and with neighbours always running short.

Their faither smoked like he was Humphrey Bogart; eyes screwed up looking through the reek at the fag. His pal Wee Rab smoked his in the palm of his hand facing outwards like he was sucking a straw, whereas Pud Barclay being a ploughman rolled his own and was forever taking wee bits of shag out his mouth.

This bus has broken down alreadies, back there in Haddington. And anyway Bobby and him should be at school back home in Winchburgh along with all the rest. If nob'dy else was off this week in their classes it would be them to blame for their classes no having perfect attendance, and so for no getting away at three o'clock on Friday.

Was hard enough keeping pals as it was, mused Baw, without the school having daft Friday early lowse rules Only them who had been in hospital and had the likes of a stookie or crutches to prove it, or even a death in the family, were safe. Mumps or scarlet fever were fine as well, but just away visiting your granny down at Ayton was liable to get you a bloody nose, unless you were a right good fighter like Bobby.

Wasn't his fault; but then everybody said that; their Granny Moffat was bad with the arthritis and their mother had to go down every now and again to do her heavy work. Grandpa Moffat didn't keep well most days neither, usually until round about the time for the Red Lion, and this was one of the times their mother had to take them with her.

Bobby hated Winchburgh, and so liked the idea of going down to Ayton almost as much as he did the idea of a free season ticket for Broxburn Regal. Baw would far rather have stayed at home as well, with the Albion Social due on Friday and him being chief hamper-boy.

Their mother and wee Jimmy were sitting in the seat behind Bobby and Baw, who was in the inside next to the window. Bobby still hadn't got him back for that for yet, or for taking the last bit toast at breakfast time that morning. They had just past Reston village so were almost there. The seaside at Eyemouth and Coldingham were just across them fields.

She had only got single fares. Baw reckoned Bobby would be sitting there hoping against hope she was leaving their faither for good, just like American women sometimes did in the pictures, but he knew better. She always got single fares, because she was always skint and so dependant on Granny Moffat giving her some money along with their food, or else their grandpa would work something out to get them back to where they came from, or at least as far as Edinburgh. Maybe passes for the train; him being a railwayman, or else a lift with that son of a pal who worked in Eyemouth and has a girlfriend in Leith. Baw hoped he'd cleaned out his fish van since the last time.

Down in Ayton they lived on rabbit stew mostly and any other stuff poachers had to spare once they had seen to themselves and their relations. Even got salmon at times.Their faither calls it the barter system. According to him, Ayton was still in the Dark Ages.

One of their wee factories, along the Bean Burn road, was packing gutted wild rabbits into boxes for the London market, sent by train. Salmon and the other stuff that wasn't labelled always went in the guard's van, or so Baw had heard Uncle Jimmy say, but only as far as the black market, wherever that was. The auld stationmaster never seems to know what was going on, especially on the night shift when Grandpa Moffat was about.

The last time they were down they got fatty meat day after day. Their mother asked if it was mutton. Granny Moffat just shook her head and told her to eat it up, before it went cauld. She was a housekeeper in Edinburgh's West End for the gentry before she married grandpaw. Still treated their mother like she was still a wee lassie. But then again so did their faither, specially when she was on about money.

One day Bobby broke a tooth on a lump in the fatty meat. Showed it to Baw after; said it was definitely a bullet, and Bobby knows about the likes of that, him being the very first cowboy in Winchburgh with a tied down holster. Had more poachers down there than there was back in Winchburgh, but then Ayton didn't have as many gamekeepers and tell-tales keeping check on them that spent far more than they earned in the pub and on horses.

Grandpaw Moffat wasn't as respectable as their faither would have liked, him having been barred from Ayton Flower Show for cheating with his leeks. Had stuck a bit brush shaft down the inside and taped up the end, and entered stuff he bought of somebody's cairt, and then swore at the judges. Just couldn't stand that Mr. Bowhill and his bow tie, the way he walked, his nice manners and him being Chairman.

Then there was Mrs. Philp; her with the wee shop in the Auld Town next to the village hall. Said Grandpaw Moffat was common as dirt. He said she never gave him the cheese he was entitled to during the war, and him with two sons out in the desert making the world a safer place for her and her kind, and mincing lovey/dovey spivs like Bowhill and them.

When he was drunk at night on the road back from The Red Lion after drinking with the poachers he would throw gravel up at her bedroom window and curse her for the cheese he never got when Rommel was on the rampage round about Tobruk and El Alamain. Her nephew had flat feet, or so he said and so missed the army, pigeon chested as well and a pal of Bowhill's wee brither.

Earlier on there, just for something to do on the road down, Baw had been watching the Movietone newsreel of his international debut, that was set up in his head, as some of the finest defenders in the world struggled to pin him down, desperate to stop him completing his second hat-trick. Big Frank Swift in the English goal was just a bag of nerves as soon as Baw was within shooting range, and that was near half-park at times.

Them that knew the game, like their faither who wrote about it in the Courier and wee bits and pieces in the Edinburgh evening papers, were all coming round to the view that a certain young red-headed centre-forward was even better than the young Thornton at the same age; was in Technicolor up on the screen on the inside of his closed eyes, with it's own soundtrack, plus all the talking and the roaring of the crowd.

'A free kick just outside the eighteen yards box and the whole English team are lining themselves along the goalmouth behind Swift. Pivot Billy Wright's desperate lunge has just prevented another certain goal from this red-headed Scots flying maestro. Can England hold out for these last few seconds.'

'The Welsh referee is looking at his watch and nodding across to his Irish linesmen. It's five goals each and this is ten man Scotland's last chance of glorious victory and the first ever double international hat-trick since Nick Smith's in the 'Rover' for England against Panamania.

'The whole Scottish team is begging young Findlay to take the kick; maybe asking too much; has obviously pulled a leg muscle scoring that sensational equaliser into the right hand postage stamp with that overhead hitch-kick just a few minutes ago.

'The trainer thinks Wright may have broken Findlay's jaw in that bone-crunching tackle, but young Findlay is brushing the trainer away; His uncle Rob was a desert rat. This is the finest game we have ever seen at Wembley since the Wizards in 1926.'

'Will he hit it his slightly weaker left peg or the injured right?; the one 'Rex' in the Sunday Mail has nicknamed Mons Meg. The capacity crowd hold their breath; the English opposition never know what ploy he's going to dumfound them with next.

'It's a daisy cutter'. Raymond Glendenning is bawling into his microphone. Everybody back in Scotland is listening to the game on the wireless, including Uncle Jimmy Calder up in Bathgate. All on the edge of their seats, waiting. Uncle Jimmy Calder has the whisky bottle out ready, but too excited to get the stopper off; the streets of Scotland are deserted except for wee lassies and stray dogs.

"He has hit the post! The ball is coming straight back to Findlay like a yo-yo on a string; Findlay waits, what is he playing up. Was that intentional? Surely not!
The English defence are rushing out to close him down, just like they tried at Bannockburn.

'Yes! He is going to lob them. The forlorn Swift is in no-man's-land. Goal!" (Forlorn means no best pleased).

According to Raymond Glendenning, this young Winchburgh boy's coloured picture will be appearing on shortbread tins and tea caddies all over Scotland. The rest of the Scottish team are shouting Baw's name and pushing each other out the road in their keenness to clap him on the back and shake his hand. 'No, no the now Geordie!'

All he want is to get the ball and the game restarted; could maybe be another one for him if the referee plays injury time; Frank Swift isn't as good high on his left side as the papers have been making out. Maybe try a long-range shot from half park!

That was their mother's voice telling him to stop kicking the seat in front."Sit up and read the Wizard," says she, but Bobby was still holding onto that.

All Bobby thought about was The Wild West; every town and state on the Chisholm Trail where they drove the longhorns to the railhead – American for a railway station. Even talked American when rhyming them off. Had started learning all the cavalry posts along the Rio Grande and Indian tribes west of the Mississippi. Be sitting their kidding himself on they were heading for Dodge City in the Wells Fargo stage, or the Overland something. Knew the name of every last desperado who rode with Jessie James.

When they were playing cowboys and Indians back in Winchburgh was always Frank James, and Baw had to be a Colt or a Younger, but no Jessie James or Wullie Thornton; was the very first cowboy in Winchburgh with a tied down holster

Must have read all them stories twice. Baw wondered if Uncle Jimmy Moffat would be back up from England yet; had a job down there in a squad of displaced persons with an Irish ganger rebuilding the houses the German planes bombed. Before that he dug out the folk living in them at the time. Before that he buried the Germans uncle Rob and the rest of the Royal Scots killed out in North Africa.

Uncle Rob was a Desert Rat and got his photo taken in Rome in the place the gladiators fought, before catching up with the Germans again at some monastery up a mountain, or so Grandpa Moffat told them. Uncle Rob just shook his head when anybody mentions the war – almost drunk the Red Lion dry when he got home, according to their mother; no doubt Grandpa Moffat lent him a hand; was the only one who made it from the crowd he started off with – their mother's awfy happy now that he was winching the lassie in Philp's sweetie shop; so were Baw and me, but no Mrs Philp.

Uncle Jimmy just telt jokes when anybody mentions war to him – One day him and his pal Frater were working away in the desert planting Germans when this one sat up and said, ' Kammard, kammard, me no deid', but uncle Jimmy, wasn't for taking any chances; planted him along with the rest; the Huns are awfy liars; got his photo taken in Rome as well, but was in a pub.

Bobby thought that a brammer joke and told it to Spug and the rest of their pals back home. Baw wasn't amused; getting buried alive was was on of his regular nightmares in the close season, or after watching a funeral go by down to the graveyard. As a wee laddie imagined lying down there under the ground looking up at the inside of the coffin lid just above his nose; now knew fine it must be darker down there than the inside of a tar-boiler, but just as scary, specially if the boiler was full of rats with red eyes and yellow teeth and worms that thought your heid was a tattie.

That was their mother standing up getting the stuff down from the rack; must be about there; Ayton had only the one bus stop.